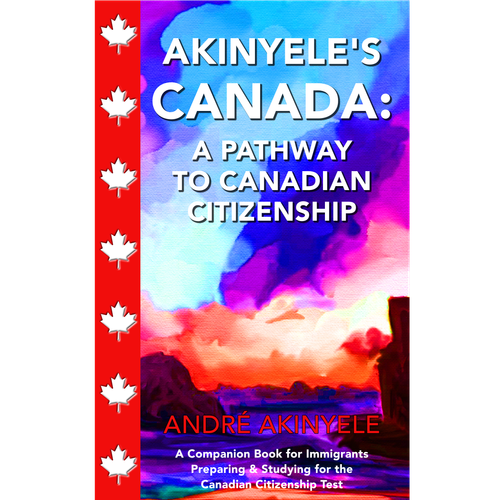 Akinyele's Canada: A Pathway To Canadian Citizenship
Formats: Paperback / EBOOK
Available Now Wherever Books Are Sold
A skillfully made citizenship test preparation book for immigrants preparing and studying for the Canadian Citizenship Test 
The book is an easy study aid to help Canadian immigrants prepare and study for the Canadian Citizenship Test and pass. Citizenship test prep questions and test topics, carefully researched and derived from the official Canadian citizenship study guide "Discover Canada: The Rights and Responsibilities of Citizenship," are answered in detail with complete explanations and will help you test your knowledge about Canada. 
The book tests your knowledge about Canada's: Rights and Responsibilities of Canadians; History; Geography and Regions; Economy; System of Government; Federal Elections; Laws; Justice System; and Canadian Symbols.
A skillfully made test prep book to help prepare and study for the Canadian Citizenship Test and pass. Includes 74 photos, test prep questions, and bonus sections. Easy to understand, study, and review. Covers everything needed to pass.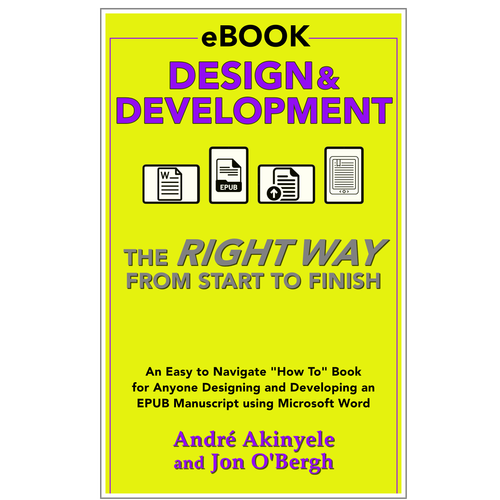 eBook Design & Development: The Right Way From Start To Finish
Format: Ebook
Available Now Wherever eBooks Are Sold
Save money and design, develop, and complete your own eBook manuscript from start to finish—the right way. 
A step-by-step guide to understanding and creating an eBook manuscript and EPUB file. After in-depth research and compiling all the necessary information, this "how to" book will explain in detail everything needed to design and develop your own professional and engaging eBook manuscript and EPUB file for submitting to online publishers. 
Provides educational value sourced from leading eBook manuscript conversion publishing companies. Provides graphics to help understand the content and eBook/EPUB process. This "How to" book is for anyone, especially authors, who want useful information in one place in learning how to design, develop, and complete an eBook the right way.
Design and develop an eBook from start to finish the right way. Includes Microsoft Word formatting guidelines and publishing checklists. Easy to navigate and no HTML/CSS required. Covers everything needed for a well-formatted EPUB file.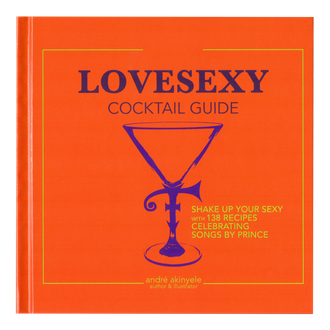 LoveSexy Cocktail Guide
Formats: Hardcover / EBOOK
Available Now Wherever Books Are Sold
Shake Up Your Sexy with Cocktail Recipes Celebrating Songs by Prince. 
Ingredients skillfully matched and sourced from official bartending guides to create cocktails that imbue the lyrics and song titles of Prince, LoveSexy Cocktail Guide includes tantalizing cocktail recipes that are characteristic of Prince's enticing and exciting songs. The book's step-by-step guides make the cocktails easy to prepare with on-hand ingredients readily available in every Prince fan's, "fams'," true funk soldier's, bartender's, mixologist's, and cocktail drinker's home. 
These inspired cocktails are practical and appealing as the genius Prince himself. The book includes 138 tantalizing cocktail recipes and full-color illustrations that parallel each song inspired recipe and song era. Delicious cocktails for every Prince occasion — from a Prince Party, Night, Get Together to celebrating his legacy. Curate a playlist from the recipes, you can't go wrong with a Prince song inspired cocktail. 
Note: Gin is used throughout this book. If you don't like Gin, use Vodka or substitute the recipes with your spirit of choice or not. The recipes are very adaptable and make for great non-alcoholic cocktails as well. 
The point is, have fun (responsibly), make the recipes your own, and rock out to and with your favorite Prince song inspired cocktail. Oh, and enjoy yourself. Life is too short! 
With this book, celebrate Prince and his musical journey on any occasion and remember the concerts, fan events, and his musical genius.